Original Hot Dog on a Stick Stand Santa Monica CA Route 66
Americans eat 20 Billion, yes 20 Billion hot dogs a year! An average of 70 hot dogs per person. A portion of those consumed is the corn dogs now sold everywhere in markets and fairs, all due to a little stick and corn bread! Ed Waldmire and Dave Barham both in 1946 decided to put their corn breaded hot dogs on a stick and as folks say the rest is history.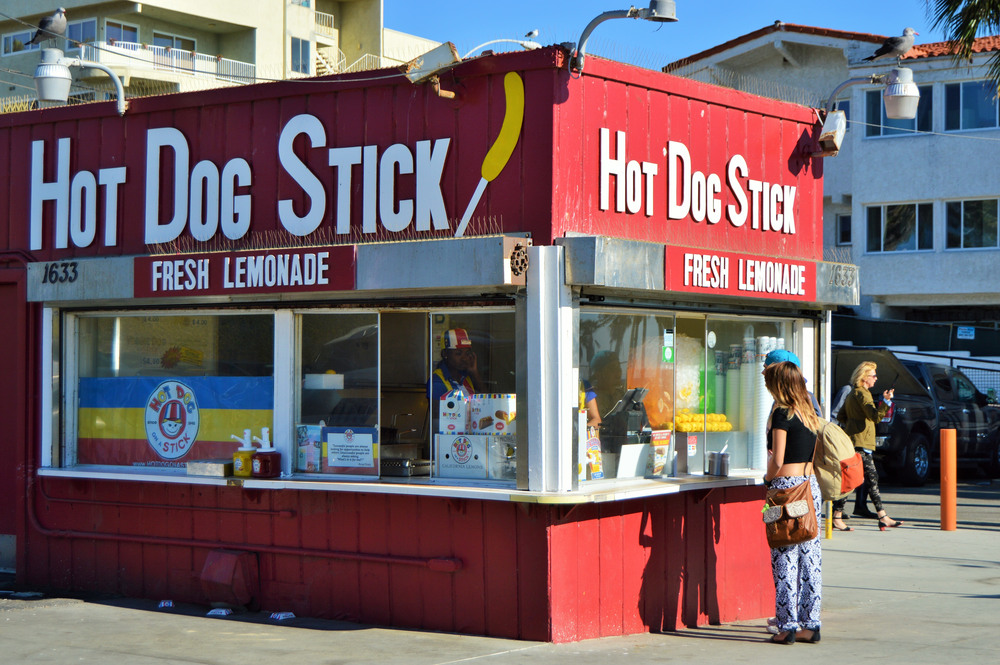 In 1946 Dave Barham, perfecting a recipe of his Mom's corn bread, dipped a hot dog in the mixture and started selling these and his fresh squeezed lemonade on the muscle beach in Santa Monica California. The combination proved a huge success and beach goers could not get enough. Being a great entrepreneur Dave branched out and soon Hot Dog on a Stick stands were popping up in malls across the country, and there are even some international spots. Hard to miss the Hot Dog on a Stick location in the malls with their signature colors of Red, White, Blue and a splash of Lemonade.

Even the uniforms are pause for great marketing. The hats are so sought after of the uniforms that they never leave the stores. You definitely know the brand when you see the uniform.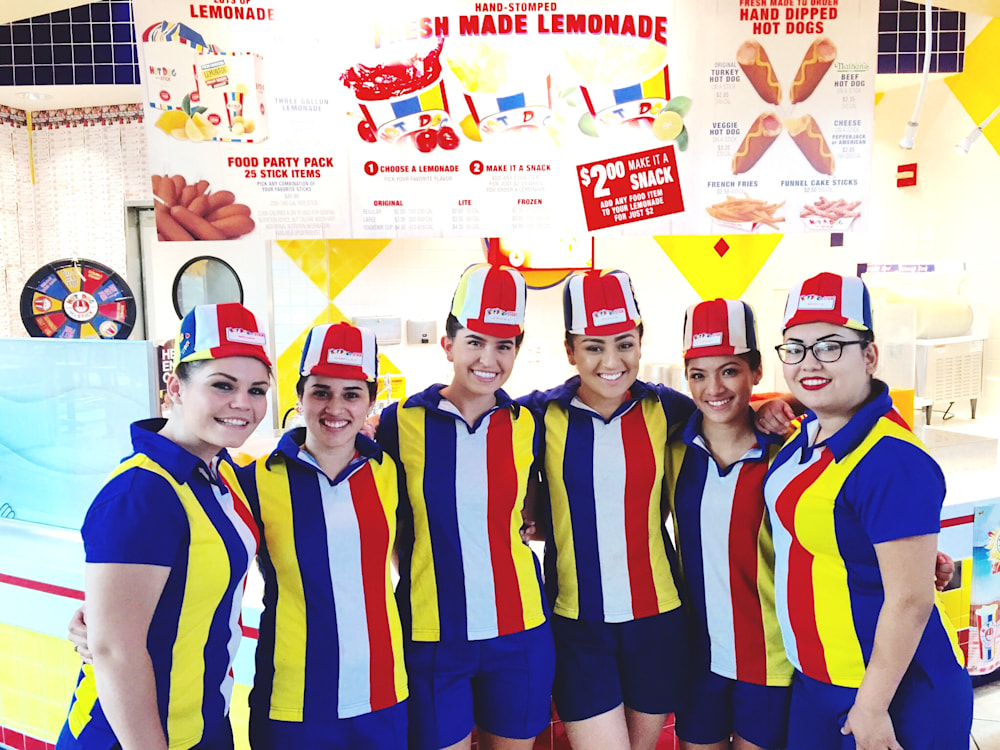 In Springfield Illinois, Ed Waldmire, (Bob Waldmire's father) sold Crusty Curs (his name for corn breaded hot dogs) to the serviceman in the USO locations during the war. In 1946 he put the hot dogs on a stick, taking claim to be the first to do so. In 1949 he opened a Hot Dog stand on Route 66 changed the name of the treat to a Cozy Dog and two fun loving corn dogs embracing each other was designed. This logo is still one of the best known and loved trademarks on Route 66. Ed's son, Bob Waldmire was a famous artist and traveled Route 66 extensively before landing at Hackberry General Store in Hackberry Arizona

Cozy Dog can be found at 2935 South Street, Springfield Illinois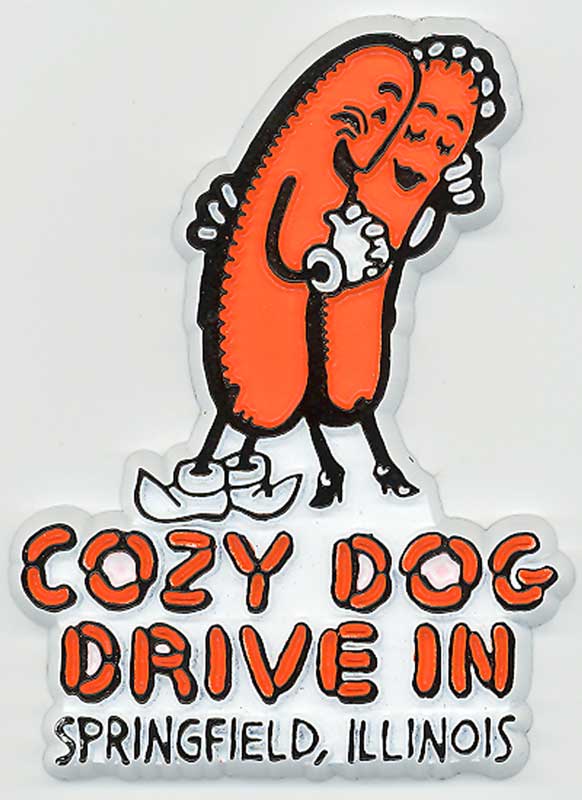 The Original Hot Dog on a Stick in Santa Monica California is located right next to the Carousel on the Santa Monica Pier. As you walk on the pier turn left before the Carousel and you will see the stand. The stand has not changed in 73 years! The black and white photo below shows the same building but with the different name Party Puffs. You can see the sign in the old photo that says Now Hot Dog on a Stick. The name on the original building now is just Hot Dog Stick. Simple and uncomplicated serving Hot Dogs on a Stick and Lemonade all those years.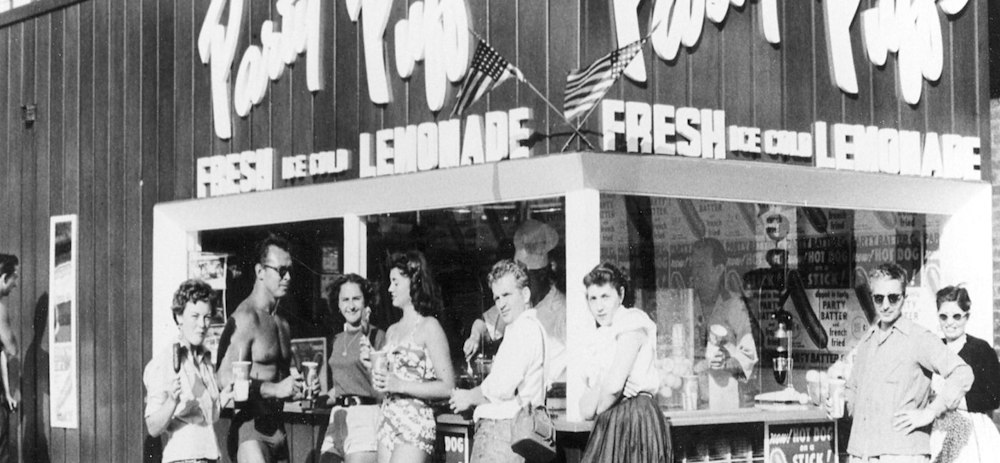 Considering Pop Sickles were invented in 1905 one wonders why it took so long for someone to put the corn breaded hot dogs on a stick. The German born immigrant sausage makers new to this country, disappointed in their sausage sales in 1927 rolled their "hot dog sausage" combination in bread meal and served it. But it was messy, and people ate it with forks. The idea took hold though and in 1937 Pronto Pups served "Corny Dogs" at the Minnesota State Fair but still no stick. So, going back did Ed and Dave at almost the same time, have a pop sickle finish it and was about to dip a hot dog in corn bread coating and they had an aha moment. We will never know, but it sure is easier eating these treats when they are on a stick.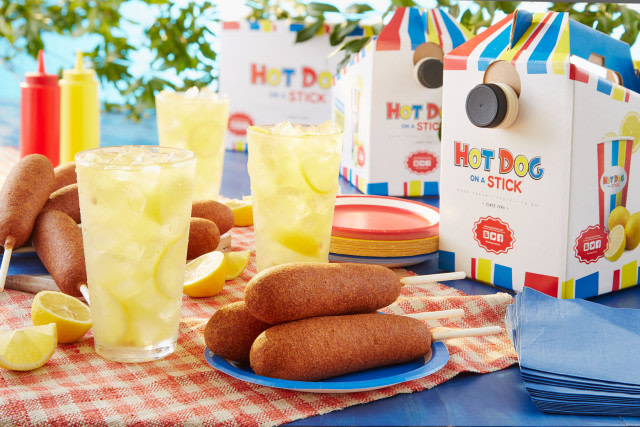 This little building on the pier is worthy of a mention although the original Hot Dog on a Stick on the Santa Monica Pier is not officially on Route 66. The pier is the sentimental favorite of travelers to finish their Route 66 trip and get their picture taken under the End of the Trail sign put up by Dan Rice in 2009. What fun to go and get one of the 70 hot dogs on an average you will eat this year, at the original stand, Mustard Ketchup anyone?