Barneys Beanery West Hollywood CA Route 66
. Dropping your license plate at Barney's Beanery became a commencement of your new life in California. After a trip to the DMV to get your new yellow and black California plates, off you headed to Barney's for a Chili Burger and Onion Soup and to ceremoniously give your old state license plate to be added to the ever growing collection of plates from across the country. You had arrived in the Golden State, the land of milk and honey, movie stars and swimming pools.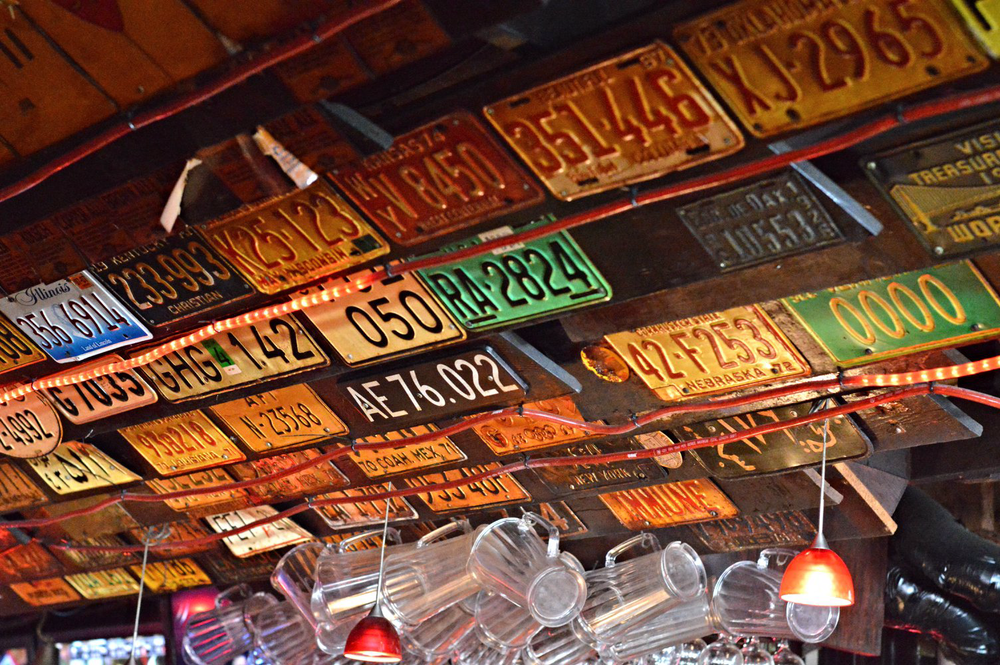 Many celebrities frequented Barney's Beanery, including Clara Bow, John Barrymore, Jean Harlow, Clark Gable, Errol Flynn and Bette Davis.
It is rumored that Quentin Tarantino wrote the script to Pulp Fiction sitting in one of the booths at Barney's Beanery and that Janis Joplin partied here the night she died. It was also a favorite hangout of Jim Morrison.
John "Barney" Anthony the owner, treated celebrity and non-celebrity the same. Barney began serving Chili Burgers and Onion Soup to soldiers during World War 1. He opened a site in Berkeley in 1920, but then he moved to Southern California for the weather in 1927 and opened a little "shack" on what is now the premises of the Barney's Beanery in West Hollywood. Barney's Beanery is the oldest bar in Los Angeles.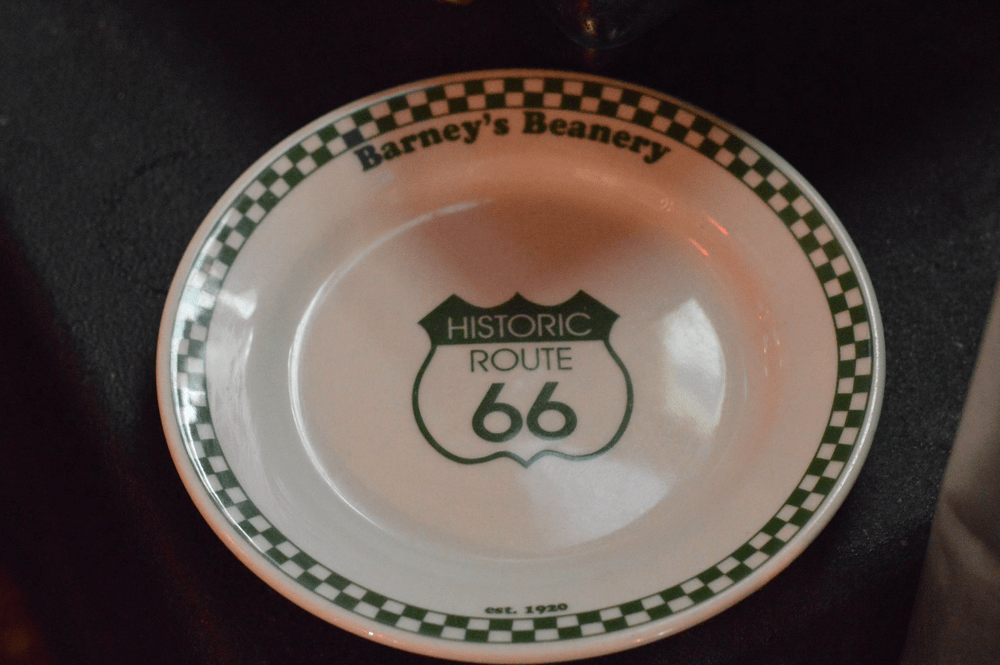 You can read the entire history of Barney's Beanery at www.barneysbeanery.com
There was one exception to Barney's hospitality and that was Gays. He was homophobic. There was a sign in the restaurant until 1970 that stated Fagots Stay Out! Between 1970 and 1984 the sign went up and came down several times. The matchbooks of the establishment also bore the line Fagots stay out for those many years.
In 1984 the sign came done once and for all when West Hollywood was incorporated. In today's atmosphere, where the LBGT community still struggles for rights and recognition that small sign being removed in 1984 would have been a significant victory.
Barney passed away in 1968, but the restaurant did not close, rather it thrived they now have 6 locations 2 of which are on Route 66. The original site when opened on Route 66 was in the "boonies" the "sticks" the road wasn't even paved in front of the "shack" The other location in in Pasadena is on Colorado Blvd. Good Food, fun atmosphere, a place to hang with your friends, watch a sporting event has allowed this little Chili burger and onion soup stand to grow and continue to grow.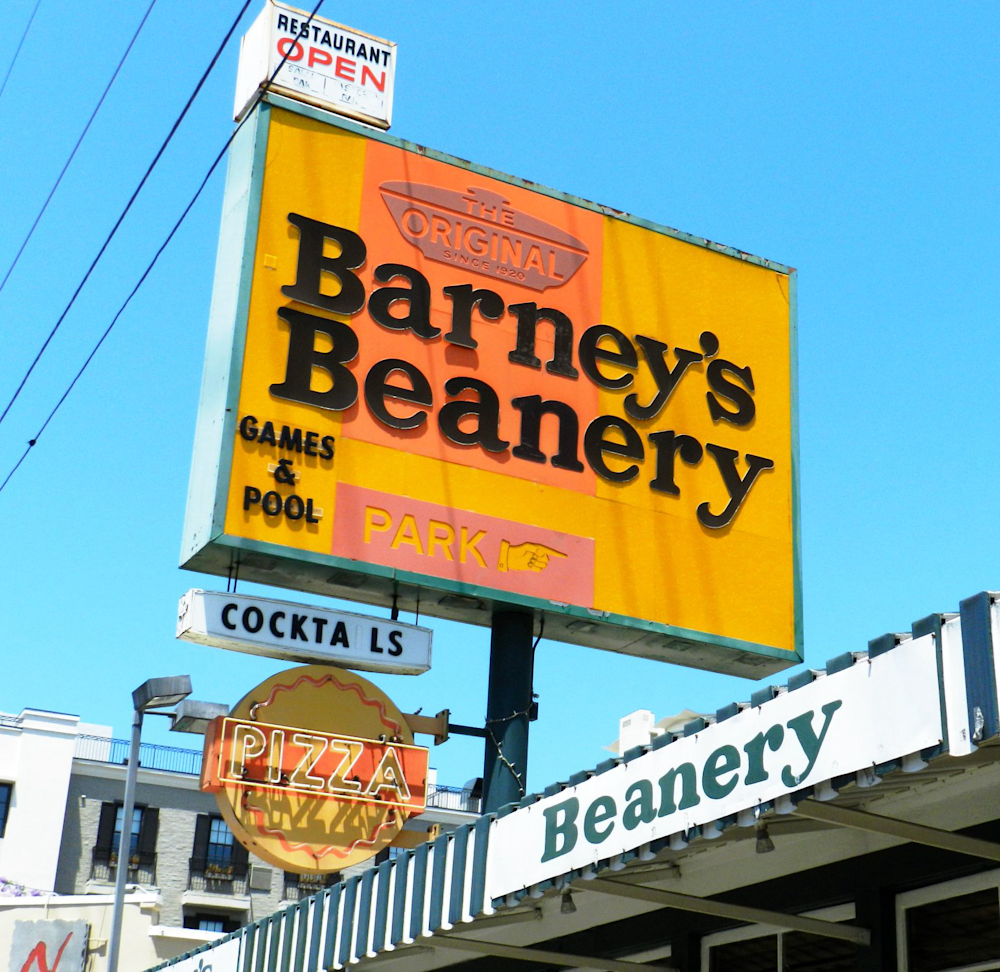 Barney's Beanery in West Hollywood at 8447 Santa Monica Blvd. from the outside, looks like a regular establishment. Oh, but the history, from the humble beginnings that this was just a shack, to the now 6 chain corporation. From the stars that sat in the very booths you can sit in, to what did Janis drink that night, and did Jim Morrison write one of his famous songs, or did he get inspired there. To the license plates on the wall that represent an individual, a family that had a new start in a new state, where are they now.
The walls ooze with tales to tell, and stories to be heard. You get to eat on Route 66 plates and Route 66 bowls, that famous Chili Burger and Onion Soup as you contemplate all the folks who came before you. Perhaps you will see a current star…. Who knows, the next big mega movie script may be happening in a booth nearby or Quentin Tarantino will return to try his luck again.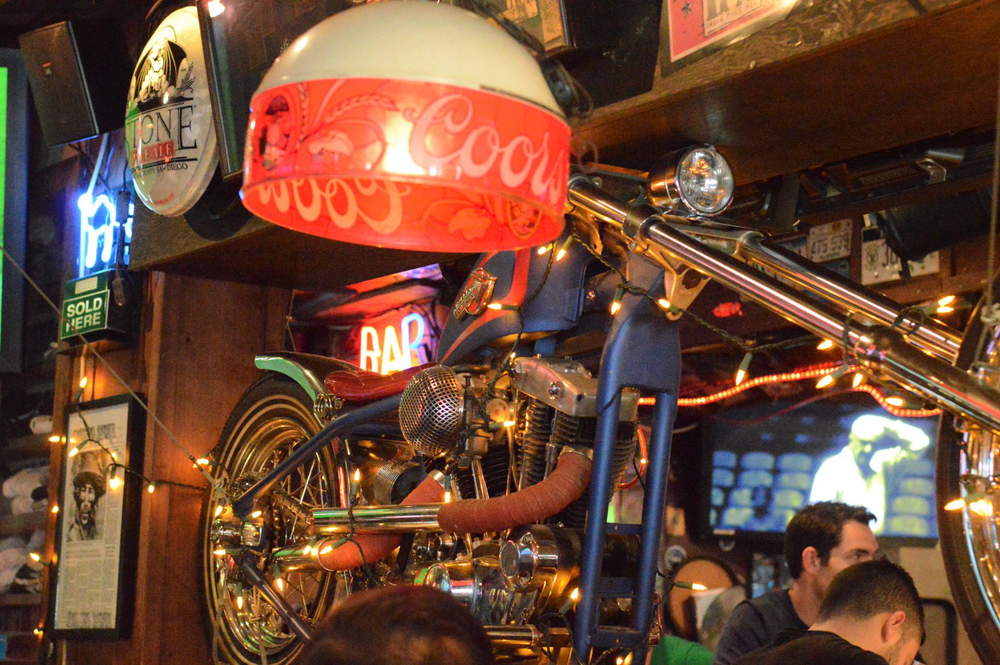 Just one more thing… Columbo ate at Barney's Beanery too.